Monday, November 20, 2023
FAA Makes Holiday Air Travel More Efficient:
In May, FAA announced 169 new routes along the East Coast that are more direct, will save passenger time, airline fuel, and will increase safety. Read more here.
To lessen inland volume and reduce delays during holiday travel, the FAA will use restricted airspace off the East Coast and Gulf of Mexico that the military releases to the FAA for commercial planes to use.
The FAA has coordinated with the commercial space industry to make sure no launches are scheduled in the busiest times surrounding Thanksgiving.
When there is weather or airspace congestion, and barring any safety concerns, the FAA minimizes delays for travelers by allowing commercial passenger aircraft that scheduled flight departures well in advance to take off first, while private business jets that often schedule late must wait.
Flight Cancellation Rates Down:
Across the National Airspace System, 2023 has had the lowest cancellation rates in five years—even lower than before the pandemic.
The percentage of scheduled flights cancelled is currently at 1.3% for 2023 across the National Airspace System. That's down an entire point from 2.3% in 2022.
Consumer Rights Up:
Under the Biden-Harris Administration, the Department of Transportation has returned a record amount of refunds to travelers, issued the largest fines against airlines for failing passengers, and advanced the biggest expansion of airline consumer rights in decades.
Since 2020, the Department of Transportation's Office of Aviation Consumer Protection has helped return a record amount of more than $2.5 billion in refunds to travelers.
Under Secretary Buttigieg, DOT has issued the highest amount in fines ever against airlines for failing to refund customers promptly and for unlawfully keeping passengers on the tarmac for hours. The fines are in part for compensation to the passengers who were wronged.
Last year, Secretary Buttigieg pressured airline CEOs to improve their customer service. Airlines responded.

Before the Secretary's involvement, none of the 10 largest U.S. airlines guaranteed meals, hotels, or ground transportation to and from the hotel, and only one guaranteed free rebooking when the airline was at fault for a delay or cancellation.
Now, all 10 airlines guarantee free rebooking and meals, and nine guarantee hotel accommodations when an airline issue causes a delay or cancellation.
To ensure passengers know what they are entitled to receive if their flight is delayed or cancelled, DOT launched flightrights.gov, an easy-to-use dashboard with the airlines' commitments.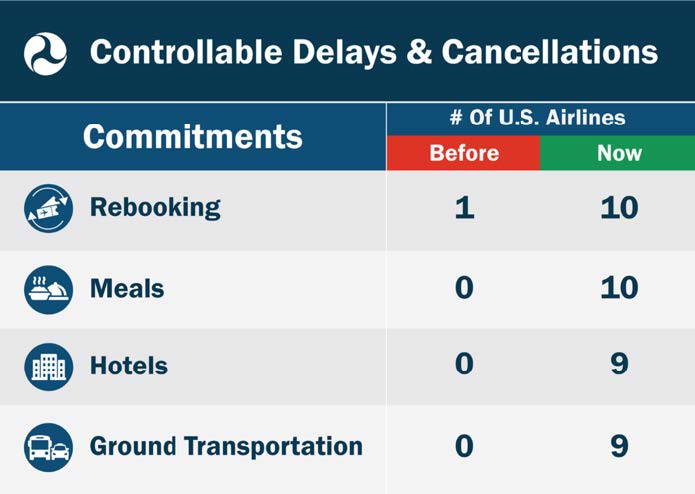 Last year, Secretary Buttigieg announced the first ever Bill of Rights for passengers with disabilities.

In July, the Department of Transportation announced a new rule that requires new single-aisle aircrafts to have lavatories that are accessible for people with disabilities.
DOT has completed drafting a rulemaking to address significant barriers and challenges experienced by passengers who use wheelchairs. This rulemaking is expected to be issued soon.

The Department of Transportation is currently pursuing rules that would:

Make passenger compensation and amenities mandatory so that travelers are taken care of when airlines cause flight delays or cancellations, such as staffing issues or mechanical problems.
Guarantee refunds for passengers for services they paid for that are not actually provided, such as broken Wi-Fi.
Ensure fee transparency so consumers know the true cost of their flights such as baggage fees before they buy a ticket and can make informed decisions and save money. Airlines and travel search websites would be required to disclose fees for changing or cancelling your flight and for checked or carry-on baggage upfront, rather than surprising customers at checkout.
Ensure fee free family seating to make it easier for parents to avoid junk fees to sit with their children when they fly. Earlier this year, President Biden and Secretary Buttigieg pressed airlines to commit to fee-free family seating. Before their urging, no airline committed to guaranteeing fee-free family seating. Now, four airlines guarantee fee-free family seating, and the Department is working on rulemaking to guarantee it across airlines.
Better, Safer, Airports Thanks to Infrastructure Package:
President Biden's Bipartisan Infrastructure Law includes unprecedented funding— $25 billion over five years– to improve, repair, and expand airports across America.

That includes $2 billion from the new Airport Terminal Grant program awarded to 190 airport terminal projects. These investments will improve security checkpoints, upgrade baggage systems, widen concourses, add gates, and much more. See an interactive map with grant locations here.
In October, the FAA awarded $57.6 million from the Bipartisan Infrastructure Law to help airports operate in winter conditions with snowplows and de-icing equipment. Read more here.
Since 2021, the FAA has made $9 billion available from the Bipartisan Infrastructure Law for airports to invest in core safety projects as well as runways, taxiways, and other important infrastructure projects. Read more here.
Air Traffic Controller Hiring:
To combat a long-standing air traffic controller shortfall, FAA is moving full-speed ahead to hire and train new staff. FAA hit its hiring target of 1,500 hires this year, with a goal of 1,800 next year.
In addition, the FAA announced a series of immediate steps to ramp up hiring and training, including:

Providing additional support to colleges and universities in the Air Traffic-Collegiate Training Initiative (AT-CTI) Program. The FAA will work with AT-CTI programs to ensure that graduates from these programs have the necessary skills to begin on-the-job training at a facility. These graduates still must pass the Air Traffic Skills Assessment (ATSA) exam and meet medical and security requirements. Previously, these graduates were required to attend the FAA Air Traffic Controller Academy prior to being assigned to a facility.
Announcing a year-round hiring track for experienced controllers from the military and private industry.
Continuing to fill every seat at the FAA Academy and increase our classroom capacity beyond current limits.
Expanding the use of advanced training across the country. The agency has new facilities in Chicago and San Diego, and will be adding them in Nashua and Phoenix in the spring.
Finishing deploying tower simulator training systems in 95 facilities by December 2025. The FAA will deploy the first system in Austin by January 2024.