Company description:
General Mills, Inc. (NYSE:GIS) is a global manufacturer of branded consumer foods. The company operates through five business segments:
North America Retail
Convenience Stores & Foodservice
Europe & Australia
Asia & Latin America
Pet.
General Mill's offers food across the spectrum, including such products as yogurt, soup, frozen pizza, and snacks. GIS own and operate some of the most recognizable brands globally, including the following.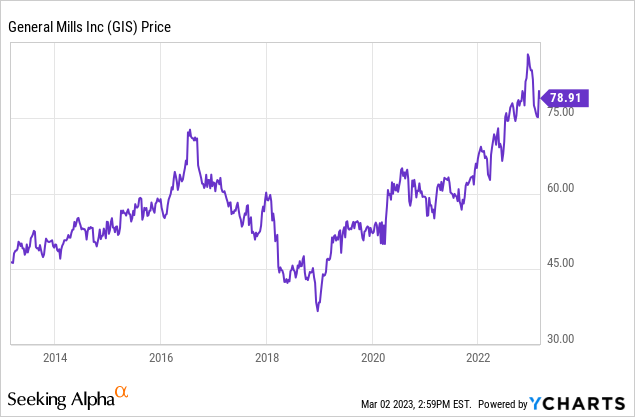 GIS' share price has performed well in the last decade, gaining over 65% in this period. The share price experienced a reversal of fortunes in 2016-2018, as the business experienced a period of declining growth and questions about performance. Since then, the business has bounced back financially.
Investment thesis:
As a producer of consumer staples, GIS has the opportunity to be a fantastic defensive choice for investors in 2023, with economic conditions remaining uncertain. What is interesting about GIS is that it has returned several thousand percent since it first joined the stock market, and has returned respectable gains above and beyond dividends consistently. We are assessing GIS from the perspective of resilience, alongside upside potential.
Our analysis will involve a consideration of the company's financial performance relative to other consumer goods businesses, alongside an analysis of key factors impacting their industry.
Plant-based/vegetarian/vegan foods:
In the last decade, we have seen consumers increasingly choosing to incorporate vegetarian or vegan values into their lives. This looks to be more than just a trend, with a sustained shift in the way consumers look at food. Our view is that the main driving force is greater health consciousness, driven by a greater understanding of the human body, and social media helping to spread this message. Vegetarian and Vegan foods are seen as the healthy option, even when this may not necessarily be the case.
This represents an opportunity for growth in the food space, as the plant-based industry is growing at a rapid rate, with Statista forecasting a CAGR of 17% into 2030. This looks to be an area of expansion for GIS with the business taking several noticeable steps to progress its involvement in the industry in recent years. For example:
Providing funding for start-up Everything Legendary, which produces meat-free alternatives.
The business was the first major company to use animal-free dairy, which is another segment for growth. 70% of consumers asked stated they would purchase real dairy products produced by fermentation technology instead of cows.
GIS has participated in an early funding round for a plant-based seafood business.
None of these actions are wholesale changes to their trading profile on GIS that will lift profits overnight but is a representation of where the business can go. We are bullish on the plant-based segment and believe the value creation here is massive. The industry is still in its infancy when you compare the amount of retail space assigned to the products relative to their traditional equivalent.
Healthy eating:
As we have discussed above, consumers are increasingly focused on healthy eating and alternatives to traditional foods. Although some have chosen vegetarian / vegan options, the majority of people shifting their consumption habits are choosing healthier options. For example, consumers are increasingly choosing breakfast bars rather than chocolate bars, or baked chips rather than fried ones.
Once again, our view is that GIS is positioned well here. Leading their charge in this segment is Nature Valley and their expansion into fruit snacks, which are seeing healthy volume growth. Further, the business has many products which it can naturally transition into the "healthy snacks" segment, such as chips. GIS' U.S. snack segment is the fastest-growing unit of the business currently, which supports our assertion.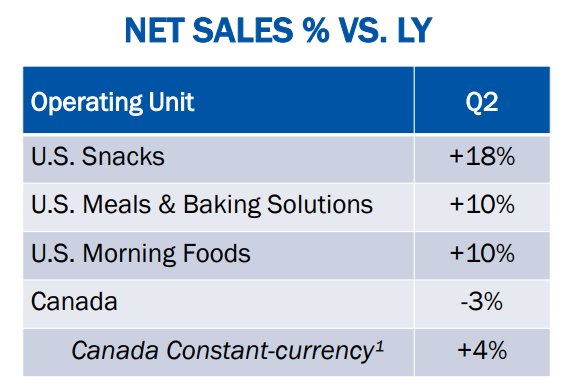 Even in GIS' Pet segment, Blue Buffalo is the no.1 Natural pet food brand and has grown at a CAGR of 15% since its acquisition.
Economic consideration:
We currently experiencing softening consumer demand as economic conditions deter spending. Inflation remains at an unsustainable level, having only begun trending down in late 2021. Although much of this inflation is driven by energy prices, we have seen costs across the board, including food, significantly increasing. This is because of supply-side issues businesses are facing, resulting in an active effort to pass on cost increases to consumers. Raising interest rates was the correct decision but they have only compounded the issues of greater living expenses and business costs.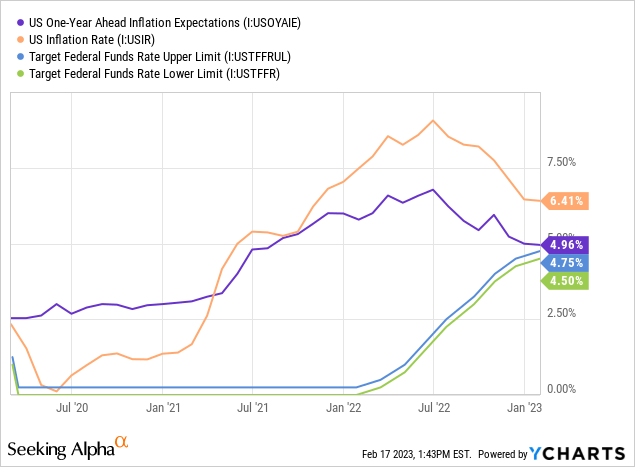 Our outlook for 2023 is more of the same, with a hint of uncertainty. As the above graph shows, inflation's decline has seemingly flatlined. It is not on a sharp decline and so we are expecting it to take the majority of the year to return to a sustainable level. The uncertainty comes from whether rates need to rise to achieve this, we are leaning towards yes. The impact of these is compounding as consumers' finance do not "reset" monthly, financial struggles only get worse and so we do see the possibility of a recession in the coming year.
GIS should be able to navigate this successfully but is likely to be damaging in the medium term. Firstly, GIS produces household goods for consumers, many of which are regular purchases and a staple within their lifestyle. This comes at a marginally small cost to the consumer relative to their income. For example, I take a Nature Valley Sweet and Salty Nut Bar (Very tasty) with me to work each day, this currently costs 44p per bar based on a multipack. Not too long ago, I was able to purchase these for 31p a bar, that's a 42% increase. This is a travesty if you ask me but have I stopped purchasing? No. The beauty of inelasticity is that as long as enough people act as I do, GIS will net benefit from this. Looking at Q2-23 numbers, the volume has decreased by 6% but price/mix has increased by 17%, thus organic net sales are up 11%.
This can be a problem in the medium-term, however. This is because, an increasing portion of consumers will transition towards alternatives, even if it is just to initially try something new. Not only this but aggressive pricing gives competitors the ability to under-cut, thus impacting competitiveness. This may not be initially seen in the financials, as it is dependent on geographical competition and pricing changes. Having looked at GIS' quarterly reports, they have generally been quite price-aggressive, consistently boasting double-digit percent pricing changes. We actually see store-branded products as the biggest source of this competition. These businesses do not compete on a level playing field, as they control how consumers shop, through product placement and other psychological factors. Further, many supermarkets will aggressively price low-cost products to keep consumers coming in-store. For example, Tesco is price-locking and aggressively pricing breakfast bars, inevitably taking market share from GIS.
Although we believe GIS has taken the correct decision to be active in price management, we believe this could come back to bite them as the food market is sensitive to changing trends. If consumers try the Tesco bar for the first time and see it as comparable, it is unlikely they will go back to Nature Valley in our opinion.
Financials:
GIS' overall financial performance in the last decade can be described as mediocre, with unimpressive growth and fluctuations in profitability.
Revenue has only grown at a CAGR of 1%, with the business struggling to drive volume growth in its core brands. As we have mentioned, the business is making moves to transition its product suite towards growth areas but this has yet to make a tangible impact. The good news is that below the surface, growth is picking up. As an example, GF and Non-artificial Cereals are outperforming the traditional options. This is one of the reasons the business was able to re-emerge from its declining period between FY15-FY17. Revenue growth in the last 2 periods has been far more impressive, but this is driven by pricing gains rather than volume.
Although growth was flatlining, Management did well to identify areas of efficiency, with EBITDA and NI margins gradually improving across the historical period. Further, FCF yield sits at a pretty impressive 15%. Even if this does decline, the business has a track record of exceeding 10%, which itself is very good.
Inventory turnover has marginally ticked down, which will not cause a working capital issue, but is indicative of trading conditions continuing to worsen. Similar to FCF yield, this is a very impressive level and indicative of operational efficiency.
For defensive investors, GIS' capital allocation looks to be good. The business has conducted M&A in recent years where required and maintains a similar level of Capex relative to revenue consistently. Beyond this, it has been able to achieve revenue paid growth of 4% and consistent share buybacks. We should highlight, however, that the business does have a history of issuing shares and so could occur in the future.
From a credit perspective, we are comfortable with the company's current position. Debt has gradually increased, but when considered as a ratio of EBITDA, it remains within a sustainable range. Any level below 3x is good in our view.
Outlook:
Analysts are forecasting uninspiring growth from GIS, at a rate of only 2%. We concur with this view as although incremental improvements are being made, we have yet to see them reflect in tangible growth.
Interestingly, analysts believe margin expansion is possible across the board, we are less confident of this, especially when looking at FCF yield. Nevertheless, a 1-3% growth rate in NI looks reasonable.
Peer group comparison:
Presented above is a group of consumer goods businesses with significant exposure to food.
When comparing the businesses on a profitability basis, GIS performs extremely well. The business boasts superior margins and FCF yield. One may be quick to suggest this is driven by pricing action, and so comes at the expense of volume, but GIS has historically boasted such levels. Looking at historical performance, the delta is less pronounced, but this is a reflection of GIS' resilience.
Revenue growth in the consumer goods industry is very uneventful as most businesses are growing, and are forecast to grow, at 3% +/- 2%. Any material movements are usually driven by M&A activity. With this in mind, GIS is in line with its peers.
Our view is that GIS is an attractive investment option, with its mediocre growth seemingly made up for by its impressive profitability. With several M&A deals in the last few years, Management has shown its ability to successfully integrate businesses without losing efficiency. We like to highlight this as inorganic growth will continue to be an option.
Valuation: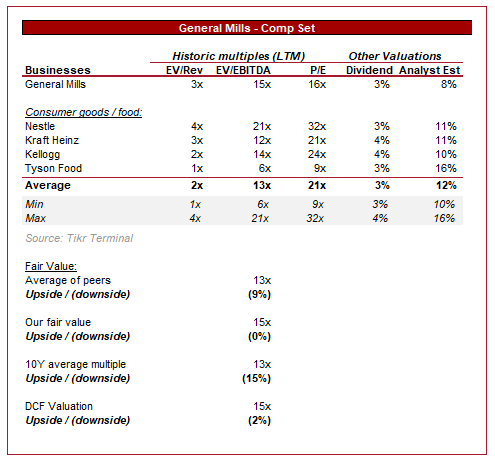 GIS is currently trading at a marginal premium to its peers, on a revenue and EBITDA basis. Given the company's superior profitability and FCF yield, our view is that a premium is warranted. The question is to what degree. Our view is that a 10%-20% premium appears fair. Based on the mid-point of 15%, we derive an upside of 4%. Of the 4 valuations above, this is the highest. A reversion of its 10Y average EBITDA multiple would suggest the business is overvalued.
We have also conducted a DCF valuation of the business, which suggests the business has an upside of 1%. Our key assumptions are:
Revenue growth of 2% perpetually, with margins gradually improving over the coming 5 years.
FCF conversion between 11-13%.
An exit multiple of 13x and a discount rate of 7%.
Based on GIS' valuation, our view would be that the business is appropriately valued.
Final thoughts:
GIS has a fantastic portfolio of brands that are likely to maintain a dominant share of their respective markets for decades to come. Volume growth has wavered but the business is taking the necessary steps to transition its portfolio toward growth.
Financial performance has been underwhelming but the company's profitability profile is very impressive. Shareholders are direct recipients of gains and the stock has shown itself to be resilient in a downturn.
The issue with rating this stock a buy is its valuation. Having considered multiple metrics, we do not see scope for upside based on the current price. For this reason, we rate the stock a hold.