Many fashion people like to make sense of our strange little world in terms of moments. If a designer or brand is "having a moment," that means everyone is talking about them; they've had a few seasons of great collections and maybe a bag or two that everyone seems to be carrying. "It was a moment" is used to describe a show whose intended spectacle delivered and delighted, like the collection of pajama-inspired eveningwear Giorgio Armani presented on Sunday night, with the final model striding down the runway while powdering her nose.
And then, there is the highest paise of all: "It was a major moment." It was an incredible show. The clothes were an inspiration. You wondered, as you were sitting there, whether you were witnessing one of the best fashion shows you've ever attended. Bing! It's the thrill of being present for fashion history.
Anthony Vaccarello's Tuesday night show was a major moment. The clothes were so precise—almost the entire collection consisted of blazers with cartoonishly enormous shoulders, worn with pencil skirts or cigarette pants—and yet so convincing. Rather than speaking to "what women want" or "today's world," as many other designers have done this season, Vaccarello made those platitudes about relevance feel passé, instead making a clean statement of line, glamour, sex, power, and most of all, desire.
Desire is the most important quality on the list. The question of whether a creative director is properly interpreting "the codes" of a namesake designer can become a boring parlor game. But one thing Vaccarello picked up on is Yves Saint Laurent's understanding of desire—the way the right jacket, or a sexy walk, or a dimly-lit room punctuated with enormous gold chandeliers stirs something in a woman or a person's soul. (Indeed, for anyone who's combed through old images of Mr. Saint Laurent's couture shows, the chandeliers were a treat: they were a clear reference to those in the Intercontinental Hotel's ballroom, where the designer showed his collections from 1975 until his retirement in 2001.)
Saint Laurent knew how to make women swoon over silhouettes, loading them with feelings and possibility. Vaccarello does the same. What makes you want something can be difficult to put into words—indeed, that's often the sign of great fashion—but the pussybow blouses that tied into long scarves that trailed on the ground behind models, the enormous shoulders on the jackets, the butch and cocooning shape of his leather bomber jackets all seemed to beckon with a tantalizing remove.
Especially gorgeous (and bitchy) were a number of blazers with scarves draped around them and held in place on the shoulder with a large gold pin or corsage. (It's a gold clip that echoes the collection's bangles, which will come with the scarf and allow wearers to drape it as they wish; the suit jacket shoulders will also be slightly smaller in commercial production.) The scarves were a way to bring softness to something masculine like a suit jacket, but the swank of the fabric in its length and elaborate draping pushed the feeling beyond refinement into something sublime, imperious, and cool.
In addition to staging a major moment, Vaccarello is in the midst of having one. His past three collections—this one included—have dripped with attitude, and the pieces have been mouth-watering. (Marc Jacobs was bopping around New York Fashion Week in February wearing the sharp-shouldered outerwear, much of which is sold out everywhere.)
Saint Laurent has also become a billion-dollar darling at Kering, where it's said that President and CEO Francois-Henri Pinault admires Vaccarello's cultivation of a heritage of stealth-wealth feeling. But stealth this wealth is not. Instead, the appeal lies in its quality and elevation; these pieces ooze down the runway like future grails. You know you'll have them forever, and either pass them down to a relative (or divinely loyal assistant) or donate them to the Met. Rather than look simply contemporary or "updated"—in fact, they all look resolutely 1980s—they look special, keepsake, even kind of (heh) momentous!
Dior showed its Fall collection earlier in the day, and Maria Grazia Chiuri is another designer looking to the 1950s. While Prada, Ferragamo, and Bottega Veneta were pulling from the couture traditions of that era, Dior was looking to its more wearable workaday style clothes, like puffed-sleeve shirting worn with full midi-skirts.
Chiuri found inspiration in Catherine Dior, Christian's sister, who was a French resistance fighter during World War II. The crinoline and boning typical of the brand's founder's creations were yanked out of the silhouettes, though, and the fabric was rumpled, underscoring Catherine's working woman story. Several plaid and leopard print fabrics also seemed to underscore that narrative, though a number of models carried boxy handbags and long leather gloves clutched in their fingers—adding another layer to this season's message that any woman struggling deserves a little bit of elegance.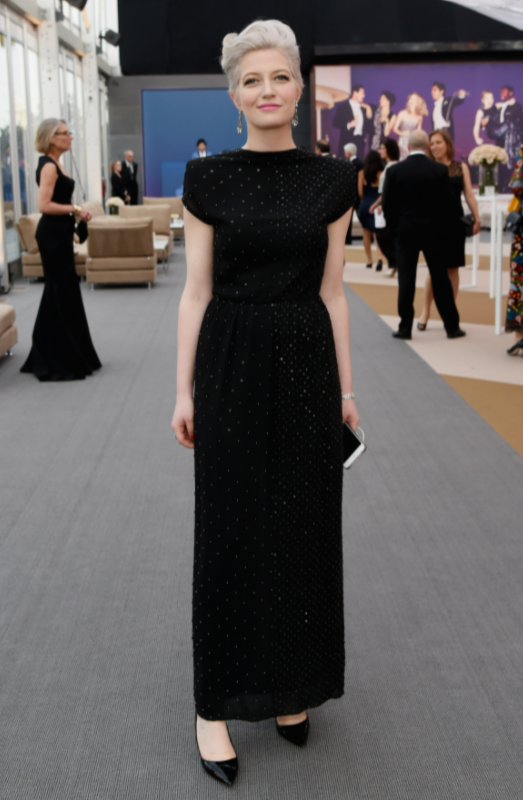 Rachel Tashjian is the Fashion News Director at Harper's Bazaar, working across print and digital platforms. Previously, she was GQ's first fashion critic, and worked as deputy editor of GARAGE and as a writer at Vanity Fair. She has written for publications including Bookforum and Artforum, and is the creator of the invitation-only newsletter Opulent Tips.